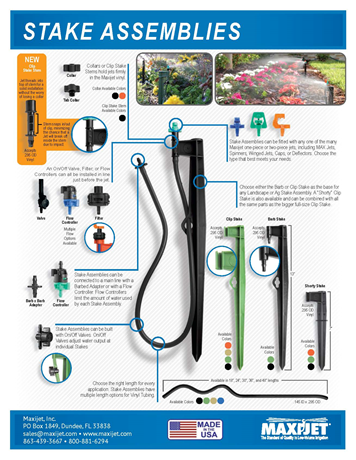 Maxijet Manufactures a variety of Stakes and Stake Assemblies with quality UV resins made to last In extreme weather conditions for years. We make tall 13″ Stakes, 13″ Stakes and 6″ Stakes. We offer these Stakes in a variety of colors such as Black, Orange, Green and Tan so the customer has a high visiblity choice for AG and Stakes that are more camouflaged and hidden for the landscapes.

We have both a Clip & Barb style Stakes. With the Clip Stakes, the vinyl attahces by simply snaping into the clip. We have serveral choice Stakes that are availalbe to work with both our .205″ OD & .240 10 Vinyl Tubing. With our Barb Stake the vinyl attaches securely to the barb.

We have a built in side hole in our 13″ Stakes for the vinyl tubing to stay securely attahced and tucked in. We even have features in some of our Stakes with a hole used to hold the crimped vinyl to stop the water flow to the Micro Spray.

We custom assemble our Stakes with Various cut lenghts & colors of our Vinyl Tubing along with the Micro Spray pattern/GPH of choice and the Barbed Adapter best for the connection to the water source. Please call the Factory for pricing on our custom Stake Assemblies.
Please Give us a Call for a Stake Assembly Quote